John Woods' Performance Auto to Sponsor ADRL Racer, Todd Martin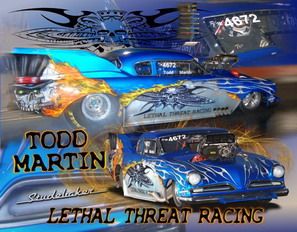 (08-04-11) MUSTANG, OK
- John Woods' Performance Auto will be the title sponsor for Todd Martin and his 1953 Studebaker for the ADRL Race at Virginia Motorsports Park on August 13-14, 2011.
Owner John Woods elaborates on the sponsorship and his relationship with racer, Todd Martin, "I sold Todd his first Top Sportsman/ Pro Mod many years ago. I have watched him crash and I have watched him win. He puts everything he has into competing in the ADRL circuit and we are proud that he has qualified at every ADRL race he has attended during the 2011 season. He is only one round away from being in the Top 8, so John Woods' Performance Auto is committed to ensuring no momentum is lost by providing a title sponsorship, which will keep him in the hunt. Todd and his crew continue to improve at every ADRL race in the Lethal Threat Racing Studebaker."
According to team owner of Lethal Threat Racing and driver, Todd Martin, "We at Lethal Threat Racing are looking forward to the 22 hour drive and would really like to thank John and Performance Auto for the help to make this ride a bit more comfortable and for making it possible."
About John Woods' Performance Auto
John Woods' Performance Auto is based out of Oklahoma City, Oklahoma. Performance Auto buys and sells only top quality race cars, trailers and motor homes. Stop by the shop and let John show you some of the great race cars, trailers and motor homes that are available for purchase. For more information, visit
http://iperformanceauto.com
or and call at (405) 771-4442. You can also email John at
j-lwoods@msn.com
Lethal Threat Racing is a strong advocate of supporting businesses who support drag racing.
Media Contact:
Ginger Martin, Marketing Director
LethalThreatRacing2011@gmail.com