Eaton-Sponsored Todd Robertson Wins Aeroquip Performance Products Heads Up Racing Series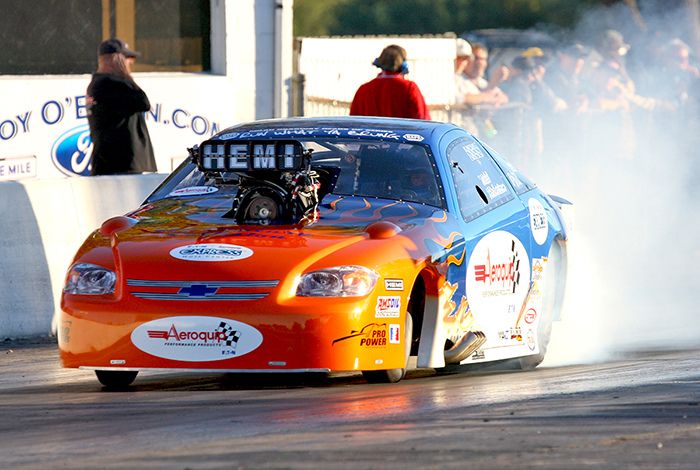 (10-11-10) EDEN PRAIRIE, MN
- Diversified industrial manufacturer Eaton Corporation today announced that Owner/Driver Todd Robertson and his Pro Power Racing team, backed by Eaton's Aeroquip® Performance hose and fitting products, won the Milan Dragway Aeroquip Performance Products Friday Night Heads Up Series title in the NAPA "Run What You Brung" class on October 1 2010, in Milan, Michigan.
Robertson qualified number one at all but one event in the series and never took a first round loss, which helped the Harrison Township, Michigan, driver win his first series championship.
Robertson entered the event second in points and just 10 points behind leader Bill Rowe. When the dust settled after the qualification round, Robertson claimed his fifth pole of the year, placing him just eight points out of the lead. Qualifying first enabled him to settle back in the lanes as the other contenders took their shot at the Milan surface. When news spread that Rowe had suffered a first round loss, Robertson pressed ahead in his Eaton-sponsored Cobalt, taking the first round win over Ryan Beavins and locking up the 2010 event title, as well as setting low elapsed time (ET) and top speed of the meet with a 3.98 ET at 188.89 mph.
"I've been blessed with the opportunity to represent Eaton and Aeroquip products for several years, and I can't thank them enough for supporting me," Robertson said. "My crew, lead by Dennis Kolomyiec and Rocco Wilson, has worked very hard, and these guys deserve a ton of the credit for our first series championship."
Eaton's Hydraulics Group is a segment of the company's Industrial Sector. The business is a worldwide leader in the design, manufacture and marketing of a comprehensive line of reliable, high-efficiency hydraulic systems and components for use in mobile and industrial applications. Mobile and industrial markets include agriculture, construction, mining, forestry, utility, material handling, earthmoving, truck and bus, machine tools, molding, primary metals, automotive, power generation, port machinery and entertainment. Eaton's Hydraulics Group provides customer-driven solutions under product names such as Aeroquip®, Boston®, Char-Lynn®, Eaton®, Hydro-Line®, Synflex®, Vickers®, Walterscheid™, and Weatherhead®. For more information, visit
www.eaton.com/hydraulics
.
Eaton Corporation is a diversified power management company with 2009 sales of $11.9 billion. Eaton is a global technology leader in electrical components and systems for power quality, distribution and control; hydraulics components, systems and services for industrial and mobile equipment; aerospace fuel, hydraulics and pneumatic systems for commercial and military use; and truck and automotive drivetrain and powertrain systems for performance, fuel economy and safety. Eaton has approximately 70,000 employees and sells products to customers in more than 150 countries. For more information, visit
www.eaton.com
.