Hossler Encouraged by ADRL Outing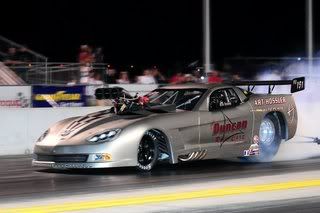 (6-17-08) Canton, IL
- Alex Hossler entered this weekend's ADRL Summer Drags in Martin, Michigan with his silver Z06. Hossler is making his 1/8th mile debut with a new BAE 6 motor topped with an M5 blower from DMPE. The teamed hoped to get a few test hits in before Friday night qualifying but for the first time of many Mother Nature reared her head, allowing the team only one test pass.
"We are still working on our new motor and blower combination," said Hossler. "Coming into this event we had limited data on the M5, but the numbers so far are very encouraging."
When the cooler air of Friday night qualifying came around after more weather delays Chris Duncan crew chief and chassis builder wanted a solid straight pass, he got it. A 4.05 blast qualifying Hossler number 8 after round one.
Going into the final round of qualifying the team was excited to see what the car had. Crew chief Duncan turned the wick up on the new motor.
Unfortunately the tune up was just a bit too aggressive for the track. Hossler peddled his converter driven ZO6 Corvette twice and still put down an amazing 4.10 at 171 MPH.
In round one action on Saturday night Hossler's Corvette got a bye run since his scheduled opponent Ray Commisso had contact with the wall earlier in the day. With a bye run first round Duncan again decided to see how hard he could push the car. Hossler took the tree for his solo run. When the tree came down the converter driven Corvette put down an amazing .973 60'. The Chris Duncan built entry continued powering down the track to put together a great 4.02 at nearly 183 Miles per Hour.
When the event started back on Sunday the track found they had issues with the timing system, and ran the remainder of the event with an arm drop start. Hossler lined up against Josh Hernandez in the second round, but Hossler had problems once the car was staged. Hernandez left with the arm drop but the Corvette was not up to launch RPM's yet. Hossler got the motor up and launched, but giving up a large holeshot to Hernandez, who took the win.
"This is our first time running with ADRL and I can see why they have such a great following. To be the main event of a race of this caliber is a lot of fun, and we are looking forward to racing in ADRL competition again soon," said driver Alex Hossler. "We would also like to thank DMPE's Jon Salemi who helped us tune all weekend long."
Photo courtesy - Roger Richards / CompetitionPlus