The EOPM returns to VMP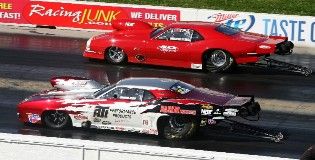 (08-06-12) Petersburg, VA
- The fastest growing outlaw Pro Mod series, The Extreme Outlaw Pro Mod is returning to Virginia Motorsports Park, August 11, 2012. The EOPM has always had our biggest car counts, fastest ETs, and great side by side racing.
"We are expecting a huge turnout of Pro Mod cars and race fans", said Stuart Williams (Race Director). The EOPM once again has named this race; The Rogers Automotive Racing Transmissions Shootout in honor of another one of our great sponsors. Wayne Rogers (Owner) has been involved with several Pro Mod racing organizations for over twenty years now. Rogers Automotive has been an EOPM sponsor for 2 years now, and we are proud to honor him as the race sponsor of the August 11, race at VMP.
We have racers coming from everywhere to race with the EOPM! Already pre-entered are Dewayne Silance, Greg Godwin, Andy Beal, Randy Weatherford, Steve Vick, Dewayne White, Jim Teachman, Steve Cossis, Jeff Blasi, Mack Copeland, Danny Perry, Kevin Mayer, Tori Cagle, James Litton, Dewayne Wolf, Bruce Mullins, Jon Bartunek and George Williams. We invite all Pro Mod racers to come to VMP for one of the best races in Outlaw Pro Mod racing. The EOPM is the Best of the Best in Outlaw Pro Mod racing!
The EOPM wants to thank all of the racers that came to support the EOPM. We also thank all of our sponsors, Carolina Precision & Machining, Extreme Starting Systems, Buck Racing Engines, Virginia Speed Race Cars, Tommy Mauney Race Cars, Hank Thomas Performance & Sunoco race fuels (The official fuel of the EOPM), Beal Racing Engines, Robert Hayes Motorsports, Rogers Automotive & Racing Transmissions, Dunn Benson Dragstrip, Williams Concrete, Keene Visuals, KW Multi Media Group and Mobea Solutions.
www.extremeoutlawpromod.us
(new site)
www.virginiamotorsportspk.com
www.dunnbensondragstripinc.com
www.extremeoutlawdoorslammers.com
Article and photo by KW Multi Media Group